On May 23-25 hundreds of Wesleyan alumni flocked to campus to celebrate Reunion & Commencement Weekend.
In addition to class reunions, alumni attended WESeminars, academic department open houses, a parade of classes, campus tours, an all-college picnic and festival, and an all-campus party featuring mamarazzi and Illegalize. The weekend culminated with the 182nd Commencement Ceremony featuring commencement speaker Theodore Shaw '76. View the full schedule online here.
Classes ending in "4" and "9" celebrated their reunions.
For psychology major Sheryl Sturges '79 and theater major Jonathan Duell '79 of Cornwall, N.Y., being together on campus is all too familiar.
"I just showed up here in 1975 and I met my significant other," Duell said.
"We met on the lawn in between Harriman Hall and Clark Hall, before Olin had an addition put on," Sturges said. "We could see each other at night by pointing a flashlight through the window."
Duell said the biggest change to campus is the addition of the Allbritton Center for the Study of Public Life.
"When we were students, that was the old Scott Lab. It wasn't needed anymore because they had just built the new science center. It was empty, so at night I remember sneaking in there. Other than that, many things still look the same," Duell said.
"Yes, we look the same too," Sturges said. "We just use hair dye or have a new style."
The couple is celebrating their 35th reunion.
History major Bill Moody '59, P'91 and his wife, Janet Cline-Moody P'91 of Washington, D.C. celebrated Bill's 55th reunion. Moody, a history major with a minor in French, retired from the Navy in 1993 and has attended reunion every five years since. "The first words I learned in Russian were 'don't shoot!'" he said. Moody, who was instrumental in landing Wesleyan's Eclectic House on the National Register of Historic Places and Connecticut State Register of Historic Places, hopes the older buildings on campus can be maintained and restored.
"It's nice to be back on campus. The physical condition of campus is very nice. I'm hoping to meet up with some old friends and have a good time this weekend," he said.
Earth science major John Woodhouse '79 of Houston, Texas attended his 35th reunion. Woodhouse's father, John F. Woodhouse '53, served as a Wesleyan trustee for 16 years and chaired the Wesleyan Campaign from 1997 to 2005. He received an Distinguished Alumnus Award in 1993 during his 40th Reunion and he was awarded an Honorary Doctorate of Humane Letters from Wesleyan in 1997.
"I'm still learning what my father did for the university. I understand there is a bell in [the] South College [belfry] with his name on it, and I'm going to see it [Friday]," Woodhouse said.
Jonathan Robison '64 of Pittsburgh, Pa. celebrated his 50th reunion. Robison majored in the College of Qualitative Studies.
"A lot has changed, but a lot hasn't. It's still a beautiful campus," he said.
While at Wesleyan, Robison was a member of the John Wesley Club, an alternative to fraternities. The Club formerly occupied the current Center for African American Studies building on High Street.
"Back then, we were an all-male school and two-thirds of all the students were in a fraternity. The fraternities were very selective and most got in their freshman or sophomore year. Those of us in the John Wesley Club joined as juniors and seniors and we were open to anyone," Robison recalled. "We were different."
Watch a highlight video of Reunion & Commencement Weekend: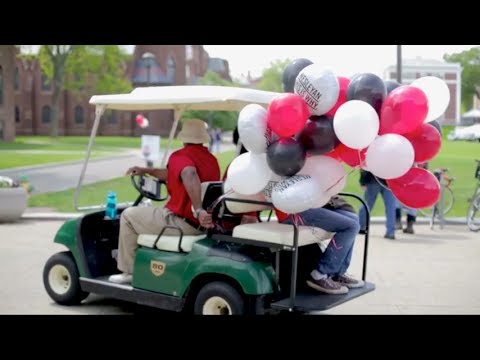 View more photos of alumni reunions below or in the complete Wesleyan Reunion & Commencement 2014 photo gallery.