More than 100 Wesleyan alumni and guests in the Los Angeles, Calif. area attended "A Conversation in Hollywood"  with Colorado Gov. John Hickenlooper '74 and Emmy-award winning actress Julia Louis-Dreyfus P'14. The fundraising event took place at the Paramount Theatre in Hollywood on May 1. View photos of the event online in this Wesleyan Flickr gallery.
The fundraiser for financial aid was moderated by President Michael Roth, who prompted his guests with thought-provoking questions about their views on politics, the importance of humor, and the influence of Wesleyan in their lives. Hickenlooper described the winding career path that took him from studying at Wesleyan as an undergraduate poet and geology graduate student, to founding a Denver brewery, to being elected Mayor of Denver and then Governor of Colorado.
Louis-Dreyfus reflected on playing the fictional vice-president of the United States in the acclaimed HBO comedy series VEEP, and she surprised Hickenlooper with the question: Would he consider running for President? "I'm very happy as Governor of Colorado," Hickenlooper said. He will be running for re-election next year.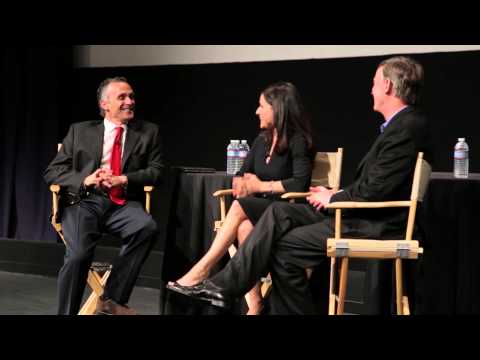 Read more about the event in this Roth on Wesleyan blog post.
This conversation in Hollywood was one in a series of kickoff events for the $400 million THIS IS WHY campaign to support the university's endowment. All proceeds from ticket sales go directly to financial aid for Wesleyan students.
More information about the campaign and upcoming events can be found at http://thisiswhy.wesleyan.edu.
#THISISWHY