Q&As with outstanding students are an occasional feature of The Wesleyan Connection. This issue we speak with Evan Okun from the Class of 2013. 
Q: Evan, you'll be graduating this spring. How would you sum up your Wesleyan experience so far?
A: Wesleyan University encourages interdisciplinary inquiry while simultaneously supporting student efforts to put theory into practice. Earlier this semester the Sociology Department (along with other student and administrative groups) sponsored a panel discussion on the education system featuring the brilliant rap duo, Dead Prez. This served as the action component of my Senior Essay, which addressed exclusion in academia and incorporated readings from classes I took in Buddhism, psychology, chemistry, poetry, music and sociology. After four years studying with innovative professors, alongside an engaged student body, interdisciplinary connections have become a part of my everyday thinking. Concepts from organic chemistry facilitate a metaphorical understanding of sociological phenomena, and classes in English help translate these ideas into spoken word poetry. There are classes cross-listed in dance and biology. There are students double majoring in neuroscience and art. Single theses for mathematics and dance. This school is incredible.
Q: What are you majoring in and why?
A:  I am majoring in sociology and last fall completed a Senior Essay advised by Professor Alex Dupuy. This spring I will expand the essay into a longer work, advised by Professor Jonathan Cutler. I have always been fascinated by how the mind works. Sociology links micro level examination of the human psyche to macro level discussion of social phenomena. It allows students to investigate the environment from which they precipitate, all the while supporting efforts to dismantle oppressive systems.
Q: What have been your most memorable classes at Wesleyan?
A: I have taken many life-changing classes at Wesleyan, but the two most influential ones were Introduction to Buddhism and Paternalism and Social Power. These classes were particularly powerful because they implicated my own thoughts and subsequent actions in the perpetuation of suffering. The professors held me accountable for the negativity I brought to the world, while catalyzing class discussions about how to uproot the human tendency to be egocentric.
Q: Through Wesleyan, you've taught a class at the Connecticut Juvenile Training School in Middletown. Why did you get involved?
A:  During my sophomore year, I toured the Connecticut Juvenile Training School and stumbled upon a CD made by residents in the Music Therapy Department. It featured original songs riddled with powerful stories, innovative literary devices, and dope rhymes. I got in contact with the department head, Lori Williams, and soon after started volunteering. I had never before found a space where peers were so passionate about hip hop and so intent on using music to have a positive impact on themselves and their environment. After a few months of volunteering, Lori allowed me to teach 15-minute "lessons" at the beginning of each session I attended. That summer she encouraged me to compose a syllabus for a course called "Culturally Critical Hip Hop," which I then taught in weekly 90-minute seminars throughout the school year. I'm teaching it this semester, as well. Being able to rework the curriculum and pedagogy each semester has been an amazing process. The students this semester are such an engaged group of talented writers and active minds!
Q: What is taught/discussed during a typical class?
A:  We examine literary technique and societal inequality through modern day hip hop songs. We begin each class by listening to a song that is relevant to the subject matter we will then discuss. Topics range from extended metaphor to mass incarceration. The students then engage in a writing exercise that addresses that topic. Sprinkled throughout the syllabus are writing workshops, performance workshops, and one-on-one discussions about ongoing student projects. The final 10 minutes of the class are reserved for improvisation rap ciphers. My main hope is that the residents and I are able to cultivate a compassionate environment that allows us to explore important, but sensitive issues, from personal hardship to systematic oppression.
Q: You were recently elected into the Phi Beta Kappa honor society. Are you involved in any other campus organizations or extracurricular activities?
A: I am a Senior Interviewer for Wesleyan's Office of Admission; a leader of WeSlam, Wesleyan's poetry slam group; a member of Wesleyan's five-person spoken word team, which competes against colleges around the nation; a Teacher's Apprentice for a course on August Wilson; the leader of Writers' Bloc, a weekly poetry workshop; a lead student involved with Wesleyan's Music & Public Life initiative; a founding member of The Freestyle Collective, an improvisational rap group backed by a six-piece band; and a participant in R.A.W (Rap Assembly at Wes). I also taught at Green Street Arts Center and hosted weekly open-mics at Klekolo World Cafe in Middletown. On a less "official" note, I also play touch football every Friday afternoon at the foot of Foss.
WATCH EVAN IN THIS REMIX OF "BILLIONAIRE" BELOW: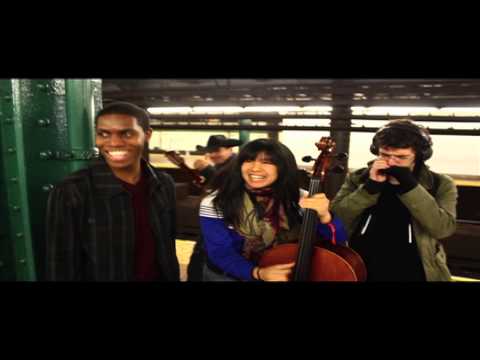 Q: You're busy! So, what are your post-Wesleyan plans?
A:  Though I am PreMed, I plan to take one or two years off before attending medical school. During this time I hope to continue my work with incarcerated youth in either New York or Chicago. I am also pursing a music fellowship (centered on social justice) and plan to spend some time at a Buddhist monastery.
Q: What is something unique we should all know about you?
A:  Though I am honored to have been elected into Phi Beta Kappa, I think the society should shift their criteria to honor those who excel in school while also working multiple jobs to pay for their college tuition.