Writer and journalist Alex Kotlowitz '77, best known for his book There Are No Children Here, has co-produced a powerful new documentary, The Interrupters, directed by Steve James (Hoop Dreams), which was released in select theaters around the country in mid-August. Based on a 2008 New York Times magazine piece by Kotlowitz, the film follows the lives of three members (called "interrupters") of the Chicago-based anti-violence organization CeaseFire, who risk their lives as the perform violence mediation on the streets of some of Chicago's most dangerous neighborhoods. The film follows the three interrupters upclose on the street and in offices, homes, meeting rooms and cemeteries.
The Interrupters was an official selection of this year's Sundance Film Festival and after public screenings, it won immediate acclaim from film critics. As the co-producer Kotlowitz not only raised money, but he helped shape the movie and was present during much of the filming, conducting interviews.
In a recent New York Times article by Jessica Reaves about Kotlowitz and the documentary, she noted that the filmmakers "were granted extraordinary entree to their subjects' lives. 'They became our lives,' Mr. Kotlowitz said. 'We slept with cellphones next to our beds.' It was quickly established that if interrupters deemed a situation too volatile, the cameras would stand down. 'We never felt unsafe,' Mr. Kotlowitz said. 'It probably helped that Cobe [one of the film's subjects] introduced us as his film crew.' "
In her positive a review of the film in The New York Times, Manohla Darghis wrote, "There is a long tradition of what has been described as victim documentaries, nonfiction movies in which filmmakers train their cameras at people enduring crushing hardships. At their worst these documentaries exploit the suffering of others, turning their pain into consumable spectacles. The Interrupters evades that trap partly because it doesn't try to sell a happy, easily digestible story and partly because it digs in. It took 14 or so months to shoot and clocks in at two absorbing hours … it rises above the usual do-gooder cant by giving the interrupters — and the people they work among and periodically come close to dying for — the time to share their stories about life in the trenches. Mr. James has put a face to a raging epidemic and an unforgivable American tragedy."
In an insightful interview with Kotlowitz by Marah Eakin on The A.V. Club site, the writer talked about his writing on the poor and underserved. Kotlowitz commented:
"I look at things from the bottom up and from the perspective of outsiders. A part of me just identifies with them. It's my messed up internal nature that I always feel like an outsider. … At these film festivals, I was an outsider for sure, but I always felt like one as well. I have that feeling at parties, too. I don't belong there.
"One way to take a measure of society's social compact is by looking at things from the bottom up. There's something exhilarating about telling stories that haven't been shared before and haven't been told publicly before. The last thing I want to be doing is telling stories other people have already told. That's not to say that there isn't important work out there about people in positions of power, but I know my strength. Even when I was at the Wall Street Journal 10 years ago, this is what I wrote about."
The Interrupters film trailer: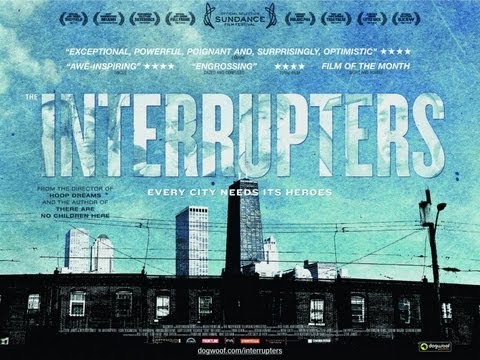 Interview with Alex Kotlowitz and Steve James on The Interview Show: