In the remote village of Gitwe, Rwanda, 6-year-old children ascend mountains, or make the journey by foot along dusty roads – more than 3.5 miles each way – to fetch water for their families. They fill plastic motor oil jugs or any other container they can find. Barefoot and often in intense heat, they lug the 40-pound containers of water back home.
"The bins that the children carry are just as big as they are," says Carina Kurban '14, who witnessed the daily procession of thirsty children during a fact-finding missionary trip in August 2010. "And many of the children can't go to school because they need to make multiple trips a day just to get water."
Kurban, who spent her week abroad collecting data from water sources and villagers who clean water would benefit (see video below), is the co-founder of 1for3.org, an organization dedicated to providing access to clean water in developing countries. Selling stainless steel water bottles in the United States helps thousands around the world.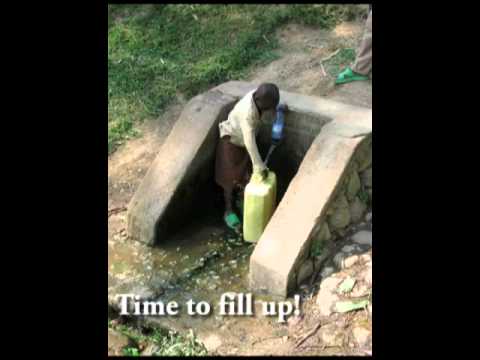 "It's simple. When someone buys one of our bottles, they are not only helping the environment locally by cutting back on plastics, they are simultaneously saving three lives overseas," Kurban says. "The cost to provide clean water for life is approximately $5 per person and these people are dying from the lack of clean water every day. I believe access to clean water is a basic human right."
1for3.org partnered with local government and education agencies in Gitwe, and recently donated $10,000 to help establish a new system that will bring clean water to the Karambi School and the surrounding village of Rogwe (pop. 5,442). At the school, 1,700 students lack access to running water or toilets, and outbreaks of Typhoid fever and dysentery are common.
According to UNICEF, 884 million people use unsafe water sources, and all over the developing world, "women and girls spend hours every day on the drudgery of hauling water for their families from distant sources; and in urban slums, many poor people are forced to pay exorbitant prices for water from vendors. Water from these sources is often contaminated, and rarely enough to meet the needs of households."
Although Gitwe offers a few wells for its 250,000 residents, it can take more than 10 minutes to fill one jug under trickling water pressure. This often leads to shoving or physical altercations near water supplies.
"I met one woman who waited eight hours to fill her container," Kurban recalls. "They don't wait in line and take turns. The men will push and shove to get the water, because most of them are getting paid to bring water back. The more trips they can make to the well, the more money they make. Some of the women we met eventually gave up, and had to get water from a muddy creek."
This is not the first time Kurban has worked to help solve the clean water crisis. In the past she has assisted, her father, Dr. Andrew Kurban, with medical missionary work in developing countries. Dr. Kurban, a dentist, co-founded the non-profit organization Medical Missions for Children (MMFC) in 1992 and provides quality surgical and dental services to poor and underprivileged children and young adults.
In January 2009, the father-daughter duo worked with sick and disabled children at the Hermando Pedro's Hospital/Orphanage in Antigua, Guatemala. While Dr. Kurban and the MMFC team were busy mending 80 cleft lips and palates in a one-week period, Carina Kurban spent her time entertaining children by playing piano and assisting with physical therapy. On this recent trip, Carina realized that she wanted to follow in her father's footsteps and help children.
"The kids at the orphanage were malnourished and physically deformed. I was working with 4-year-old children who couldn't walk," she recalls. "To make milk for the babies, they had to pour dirty water into a vat and boil it."
Emotionally shaken, and with a "soft spot in her heart" for disabled children, Kurban asked the orphanage's padre how she could help.
"He told me that if they had clean water, it would empty half the hospital beds," Kurban says. "I thought about this, and talked it over with my dad the whole plane ride back. How could we get them clean water?"
The Kurban family decided to purchase 13,500 stainless steel water bottles, and sell them through 1for3.org. The organization donates 100 percent of the bottle proceeds to provide clean drinking water.
Once the Karambi School project is complete, Kurban hopes to bring clean drinking water to areas in Israel, Palestine and Lebanon. They will focus on the Guatemalan orphanage once the village is able to provide local laborers and assume 10 percent of the project cost. 1for3 projects require local residents to participate in planning and building of the clean water systems to ensure sustainability for the long-term success.
"I don't have an M.D. I am a student who wanted to do something for people who need help," Kurban says. "Anyone can do this. Anyone can help solve the world's problems."
Marina Melendez, dean for the Class of 2014, is proud to have Kurban at Wesleyan.
"Carina embodies both the spirit of giving and making a difference in the world that Wesleyan hopes our students take with them when they are ready to graduate," she says. "How wonderful for Wesleyan to have her in the class of 2014."
For more information, join the 1for3.org Water Project for Rwanda site on Facebook.