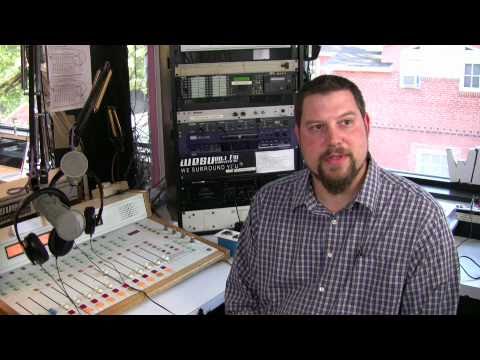 After three years of engineering, implementing structural and electrical upgrades, and navigating the FCC, Wesleyan's listener supported community radio station WESU 88.1FM, is now broadcasting at a newly assigned power of 6,000 watts of effective radiated power (ERP).
"This is a major milestone for WESU since we have been broadcasting at a power of 1,500 watts for the past three decades," explains station general manager Ben Michael. "This 'once in a generation' power upgrade makes our radio signal available to twice as many potential listeners in Connecticut and Massachusetts."
Michael estimates the potential listening audience of close to 1 million within their protected contour.
In April 2008, the FCC granted WESU a construction permit to make preparations to quadruple their output power. The Community Health Center provided funding for the design and construction of the station's new directional antenna and much of the legal and engineering work necessary for the upgrade.
Partner station WSHU in Fairfield, Conn. donated a 1960s vintage Gates transmitter as a backup unit to WESU's 30 year old Harris transmitter which was recalibrated to pump out the power needed to transmit 6,000 watts ERP through their new antenna. WSHU's engineering team provided all of the transmitter and tower work with the assistance of Ben Michael and support from Wesleyan physical plant staff.
The transmitter and other electrical equipment is housed in Exley Science Center's penthouse, and the copper, three-bay antenna is mounted on a 40-foot tower atop the building overlooking Middletown and the central Connecticut River Valley.
"Now we're actually able to get our signal over Higby Mountain, so a lot more listeners in Meriden and Wallingford can hear the station," says Michael, pointing towards the ridge from the Exley rooftop. "This was a big undertaking and it is a great relief to finally be up and running more powerful than ever after years of hard work and planning."
Michael and the WESU staff encourage listeners to submit feedback by e-mailing upgrade@wesufm.org.  This feedback will help WESU build an accurate map of who's able to receive the FM signal.
Michael credits many individuals for making the new transmitter possible: Mark Masselli HON '09 and The Community Health Center for purchasing and donating the new antenna; George Lombardi, Paul Litwinovich, and Tony Page at WSHU Public Radio for their support and supervision; Allan Moskowitz, FCC legal counsel; Laura Mizrahi at Communications Technologies Inc. for her expert consulting; and Aaron Read – the general manager at WEOS in Geneva, N.Y.; Wesleyan staff, students and faculty; and the volunteer staff, listeners and supporters who lent WESU a helping hand along the way.
WESU will host a "commemoration" event in November.